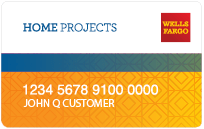 The Wells Fargo Home Projects credit card is issued with approved credit by Wells Fargo Bank, N.A.
Thank you for your interest in the Wells Fargo financing for your home's comfort renovation project! 
This is a revolving line of credit directly through Wells Fargo with zero percent interest if paid in full within the 36-month time frame.   If approved, you'll receive a Wells Fargo Home Project credit card, that we will not need to process the installation invoice, as we have a secure link into the program.
You'll receive 3 emails from Wells Fargo:
Online Application: It's just a few simple questions. Once the application has been submitted, both of us will be notified (which is almost immediately) your approval status and the approved amount.
Authorization for Future Charge: Once the equipment is installed and invoiced, you'll receive this email following our invoice. This email requests your signature to process the transaction. Once we receive notification that you authorized the charge, we'll submit the transaction.
Completed Transaction Confirmation: The final email requests your electronic signature to the completed transaction.
Call: (319) 338-3637
Email: service@brandtheating.com